TuckerMoji – Tucker Budzyn has been turned into adorable Golden Retriever emojis & stickers!
What's new in the Tucker Budzyn app?
The best Golden retriever dog emoji app by Tucker Budzyn brings you new dog stickers each month. Enjoy the new emojis as "derp mode actiaved", "intruder" or "dramatic high five"
Tucker Emojis
We use emojis in all our convos. Now you can use TuckerMoji to express any emotion. High quality and handmade created by professional artists and curated by Tucker Budzyn.
Regular Updates
Never get bored with the TuckerMoji app. New emojis added each month and exclusive Tucker Budzyn content each week. Full access to the best emojis ever. Tucker tested and Linda approved!
Rock on Social Media
Use TuckerMoji everywhere! Compatible with all devices and all messaging and social media apps. Express your "Da Hekk" on Facebook, Instagram or WhatsApp.
Here's what you will find on TuckerMoji
Tucker's Style
"Tree of doom", "Hekk you Linda" and tons of Tucker quotes and Golden retriever themed scenarios!
Super easy to use
TuckerMoji includes tutorials on how to use the emojis on Facebook, Instagram or WhatsApp
Total integration
Integrated with GBoard & WhatsApp Stickers. No need to install any Keyboard. No more Copy & Paste.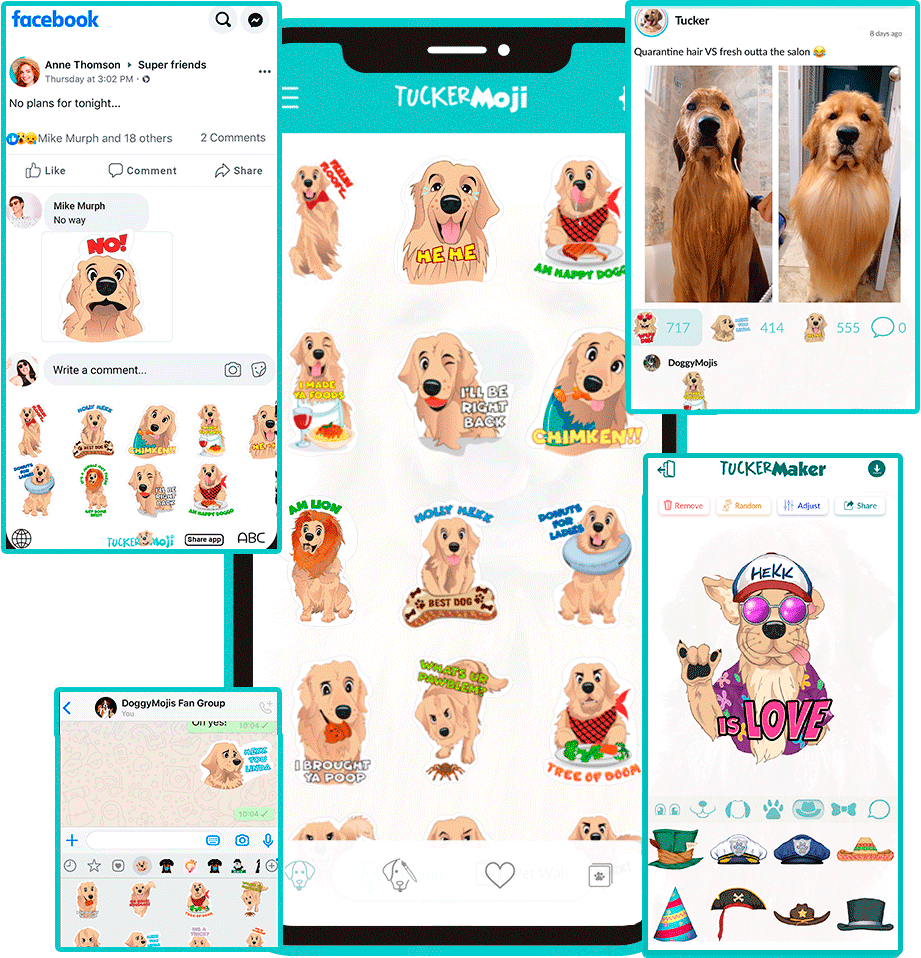 Exclusive Fan Channel
See exclusive photos, videos and chat with Tucker Budzyn. Super secret for super fans only!
Emoji Maker
Enjoy the TuckerMoji Maker! Build your custom Tucker Budzyn emoji sticker. Billions of combinations! 
Keyboard
Text using a custom Keyboard with fancy fonts and TuckerMoji. Switch anytime with your actual Keyboard.
Developed by DoggyMakers Studio
TuckerMoji concept art and development was made with ♥ by DoggyMakers Studio,  an award-winning app company specializing in custom apps for special pets.
Your own Pet Emoji Cartoon
Want to join the MaxiMojis team? Now you can turn your pet into a emoji and share it everywhere! We only do hand-made work following your exact specifications. Here are some samples: